Core Banking Conversion
Dear Members
As we continue to improve our services to better support your financial needs, we will be converting our core banking system to a new and improved platform.
To make the conversion process as smooth as possible, below you will find all the information you need regarding blackout dates and other important dates. Please review the event calendar.
We will be closed on Friday, July 1st but will extend our office hours on Thursday, June 30th so that you can complete your banking.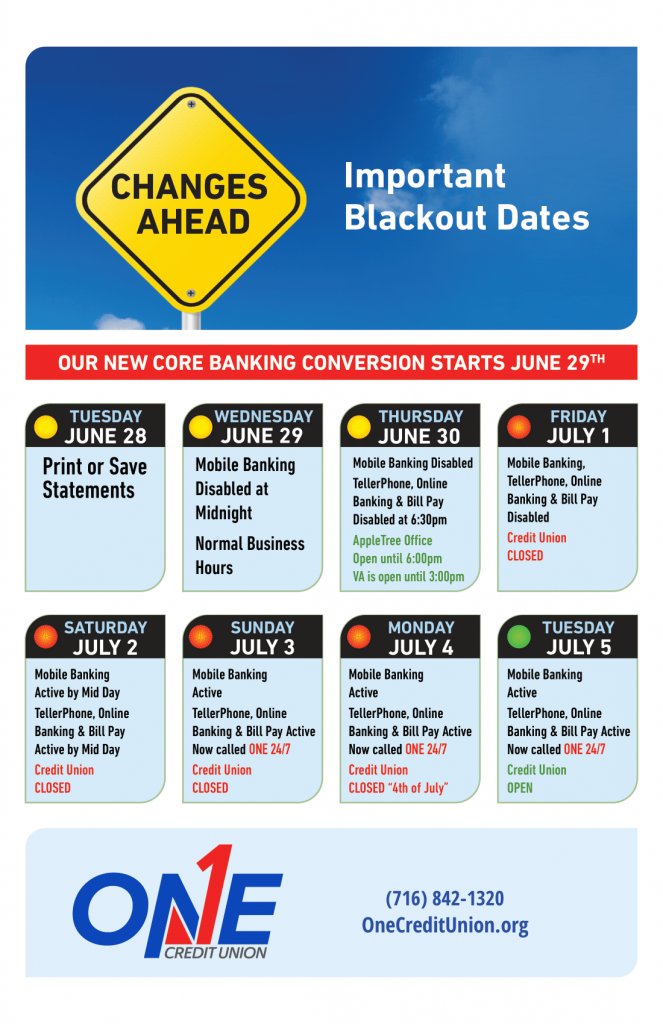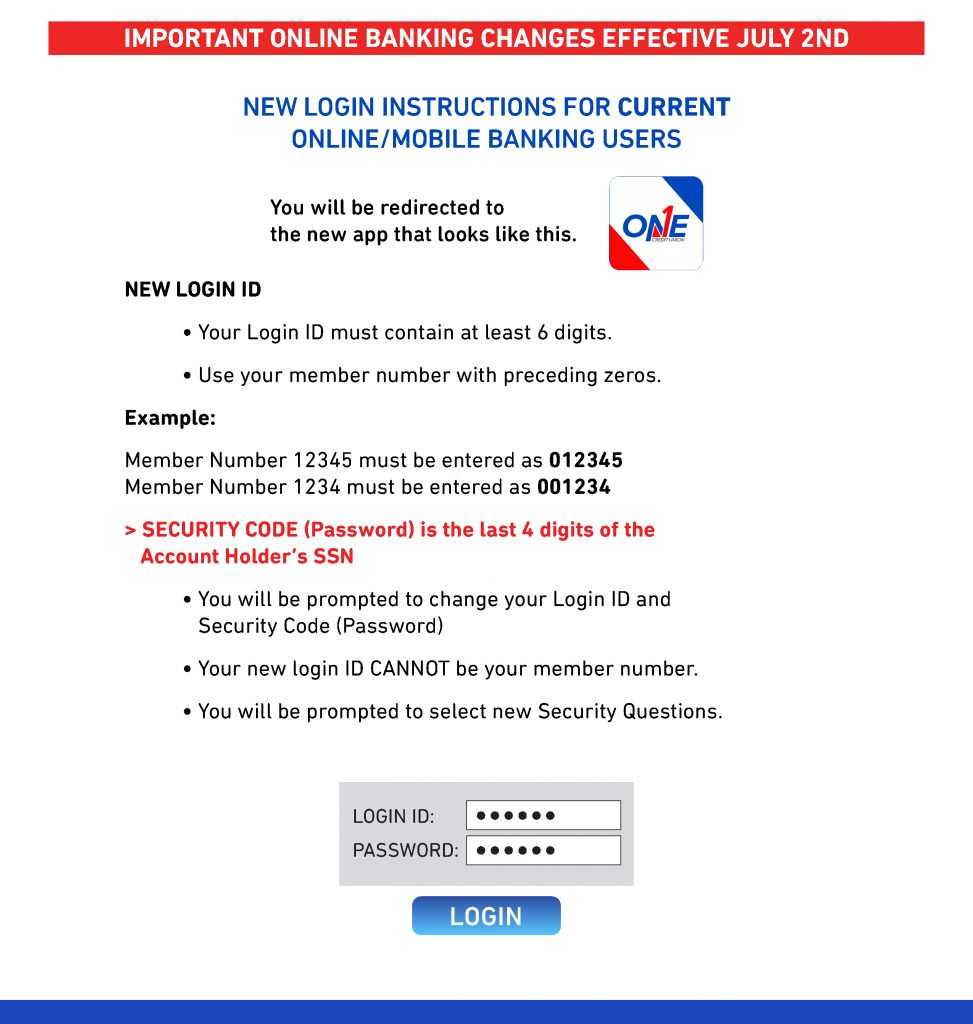 Why is ONE Credit Union making this change?
This system upgrade is to bring you the most advanced technology as it promises improved security, enhanced services, and greater banking convenience. Upgrading to newer technology provides us with a stronger, more reliable, and more efficient system today as well as the ability to improve in the future with more capable applications, better information security and a highly efficient disaster response capability. You will have access to Virtual Branch, a new online banking system and new branded app. In the coming months there will be new products and services: Such as Zelle (a person-to-person payment option).
When will the credit union be closed?
We will be CLOSED on Friday, July 1st thru Monday July 4th.  The credit union will be open on Tuesday July 5th.
When will the changes take place?
We will onboard the new system effective Saturday, July 2nd. Because of the complex nature of the transition, our offices will be closed on Friday, July 1st thru Monday July 4th, and will open on Tuesday July 5th.
Will I be able to access my money and/or accounts during the July 1st thru July 4th closure?
Yes, you can access your funds by using your debit cards for purchases or at an ATM.
Are accounts safe and secure? How safe is this transition?
Yes, accounts and personal information are secure. The safety and security of our members' accounts and their personal information is always priority one for ONE CU. The new system uses the latest advances in data security. In addition, your funds are insured by the National Credit Union Administration per individual up to $250,000.
Will my personal information be safe and secure?
Yes, we will continue to maintain the industry best practices and keep member security top of mind throughout the conversion. Member privacy and security are our priority during the transition, and the new system will provide even more safeguards to protect sensitive information. For peace of mind, we encourage you to review statements before, during and after conversion to ensure accounts are as they should be.
Will account numbers change?
No, account numbers will not change.
Will Direct Deposit/ACH be affected?
No, everything will come in & go out as usual.
Will I need to order new checks?
No, the check information will remain the same.
Will I be issued a new debit or credit card and PIN?
No, all debit and credit cards and their PINs will remain the same. Cards may be used throughout the transition without interruption. Do keep in mind, debit cards move to offline processing at 6PM on Thursday June30th until the new system goes live on July 2nd. During this time, new transactions will be delayed in posting to your account. Large purchases could be denied while in offline processing due to the use of stand-in limits while the system is down. Please remember to balance your account prior to conversion and keep a register to avoid overdrafts.
Will eStatements be transferred to the new system?
EStatements will not transfer until approximately 6 months later. You should make sure to download and save the previous months eStatements for reference prior to close of business on June 30th by 6PM. June statements will be available in July and will be mailed to all members, including those enrolled in eStatements. The first eStatement will be made available in August.
Will statements remain the same?
All members, regardless of whether they are enrolled in eStatements, will receive a paper statement for the month of June. Following this, eStatement enrollees will begin receiving eStatements again.  Statements will have an updated look in future months to come.
Will Online Banking User IDs and passwords change?
Yes. If you have previously enrolled in online banking, follow the instructions below:
To log in for the first time please use the following: >LOGIN ID is your Member Number. But must contain at least 6 digits. -If your Member Number is less than 6 digits, you must enter with leading zeroes to make it 6 digits. Example: Member Number 12345 must be entered as 012345 Member Number 1234 must be entered as 001234 >SECURITY CODE (Password) is the last 4 digits of the Account Holder's SSN  >You will be prompted to change your Login ID and Security Code (Password) >Once these are changed, you will use your NEW Login ID and Security Code (Password) the next time you log on to Online Banking. You will be prompted to update your security questions (MFA)
If you are enrolling for the first time, follow the prompts to create a new online banking account.
Will Bill Pay be affected by the conversion?
Active Bill Payees and recurring payments will transfer to the converted Bill Pay platform.
What should be expected prior to the conversion?
Converting to a new core banking system will enable ONE CU to operate more efficiently as well as provide members with new functionality and benefits but expect some service interruptions. Mobile Banking will be disabled at midnight on Wednesday, June 29th.
Please read the calendar of events at the top of this web page.